Company presentation
Phoenicea was created in Brazil by three friends sharing their passion for nature and plants and interested in finding new suppliers for natural and organic products. The project represents our wish to find the way back to nature, to ensure the sustainable land use and management, to respect the environment as well as the idea of sustainable development and fair trade. All these aspects are perfectly represented by scents created only from the extraordinary amount and variety of fragrances derived from plants and flowers.
The name Phoenicea derives from the legendary firebird «Phoenix» that arises from its ashes and symbolizes the return to nature, the idea being, in fact, that progress should no longer be synonym of distance from nature, but rather of approaching it towards well-being, living well, feeling well, scenting.
In France, in 2012 the project became a small handmade perfume business: a laboratory for perfume creation certified by French and European authorities for quality systems and production control. We then wanted to solve the issue about organic certification: in most cases the "organic" label allows the presence in the product of up to 5% synthetic chemicals (Cosmos, Ecocert, …), Due to the labeling, we call such products organic while they are not. We could not agree with this policy.
This is why we decided to adhere to the "Bio-Organics Charter" which,,on the other hand, guarantees that 100% of the ingredients present in our fragrances are of natural origin and that all the essential oils, with rare exceptions, are marked "AB" (which stands for Agriculture Biologique) by organic farming , a registered mark (https://fr.wikipedia.org/wiki/Label_Agriculture_biologique) that prevents the use of synthetic products during plant cultivation in a very controlled manner.
Quality and transparency: these are the main characteristics of Phoenicea. In this regard, the composition of each perfume is fully published in full on our website.

Our Perfumes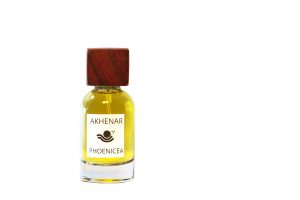 AKHENAR is an eau de parfum created, like ANGA, during a long period of time spent in the heart of a tropical forest. With its almost acidic citrus notes, AKHENAR is based on Ciste, Chamomile and Ylang Ylang. Subtle, complex, rebellious, AKHENAR sometimes amazes and must be approached with delicacy. The name AKHENAR means the end of fresh water, where the river meets the sea and where, in the evening, the heat of the tropics, in the warm and unique atmosphere in which salt, iodine, and freshwater vapors spread, the scent of plants and flowers awakens and resonates in a very special way. The skin of every person, as for every natural perfume, interprets intimately AKHENAR. At first contact, AKHENAR does not always seduce but very often reveals, after a few minutes, scents so intensely personal that adopting it often means loving it passionately.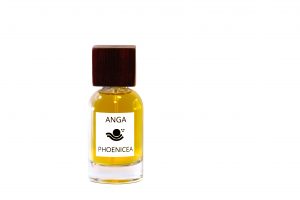 ANGA is an eau de toilette created around Vetiver, Lavender and Galbanum. The dominant notes of ANGA, woody and resinous, slightly smoky, are in tune with the freshness of lavender, citrus and Egyptian geranium. Anga, in the language Tupi-Guarani means "spirit of the forest". ANGA was the first fragrance we created and its name is a tribute to this ancestral people of the tropical forest. ANGA will accompany you throughout the day, in the morning, discreetly and naturally. Once ANGA comes in contact with the skin, it will blend with you to form a harmony of fragrances with personal and unique colours, the result of the specific association with your person, and that only your skin can develop.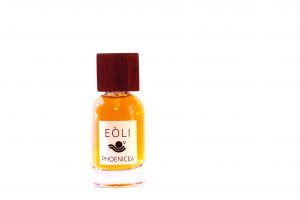 God of the wind of ancient Greece, EÒLI is also a word that in Icelandic means Nature and that today represents the whole of Nature in the coldest regions. It is a composition with bright, fresh, intense and flowery tones, which combine flowers, jasmine, iris, linden, and citrus. The result is a scent that resonates with the powerful green notes of Sambac jasmine. An eau de parfum with harmonious and slender, refined, powerful and natural notes. EÒLI is worn in the evening with elegance.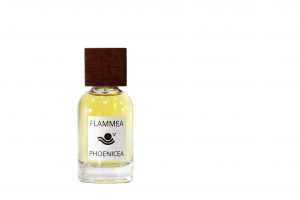 Flammea is the name of a bee (Flammea Euglossina) that lives in Central America and that specifically pollinates certain orchids and perhaps even wild vanilla. New species of bees from the Eugloxin family are regularly discovered in Central and South America. Hundreds of them, however, because of human intervention, disappear forever, as well as hundreds of species of flowers, since they depend closely on the presence of bees.
For our eau de parfum we chose the name FLAMMEA because of the vanilla present in it, but also to tell the story of these bees, to pay tribute to them and to understand how important it is to preserve them. FLAMMEA is a fragrance created from Sandalwood and flowers including Neroli, Osmanthus, Iris and Vanilla.